General Pressure Gauges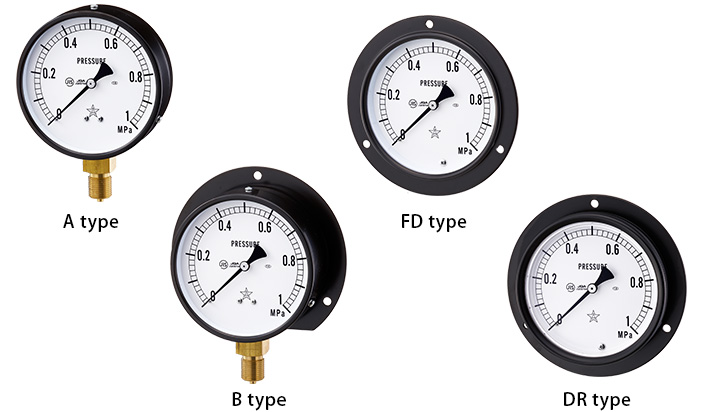 Overview
These pressure gauges were designed and manufactured in accordance with JIS B 7505-1 Bourdon Tube Pressure Gauges. A wide variety is available for diverse installation environments and mediums.
Features
Manufactured for 7 performance factors according to use and objective: normal, steam, heat resistance, vibration resistance, steam and vibration resistance, heat- and vibration- resistance, and corrosion resistant.
Already type-approved and certification-ready.
Can be manufactured in other materials suitable for oxygen, acetylene, foods or corrosive mediums that deviate from ordinary conditions.
Can be manufactured to 0.6, 1.0. 1.6 accuracy classifications specified in JIS B 7505-1 Bourdon Tube Pressure Gauges.
High durability casing with electrodeposited coating.
Wetted part In case of stainless steel, plastic case is standard.(Limited to A, B and 60 Φ to 100 Φ)
We can manufacture gauges with all stainless steel material or with "C-shaped" flange.
Type approval details
Details of the Bourdon tube pressure gauge with type approval
1. Size     50φ、60φ、75φ、100φ、150φ、200φ
2. Pressure range   0~200MPa
3. Shape     A、B、D、D2、D3、D4
PDF CatalogRequest a drawing (PDF)